Rating: 3.5
Though I had been reading comic books before, I'll never forget my first encounter with «Captain Marvel»:
Well, Mar-Vell was a dude back then, and sadly about to die in the very same issue. No spoiler, there – it was right on the cover: «The Death of Captain Marvel» by Jim Starlin.
I couldn't believe what treasure I was holding in my hands, witnessing origin, live and DEATH of a superhero! "This must be a mistake!", I thought to my much younger self: Multiple grave errors must have been made to lead to this: A boy, not even seven years old probably shouldn't read this: Cancer – killing – a superhero – in a comic book? And then, all those wonderful panels featuring a plethora of dozens, even hundreds of characters, most I've never even had seen before! My mind was blown🤯!…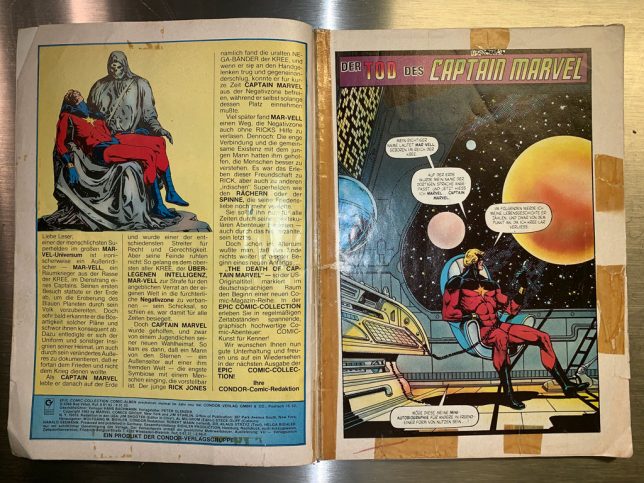 …blown! With this latest «Captain Marvel» movie – not so much. Don't get me wrong. It's fine. More than fine: Brie Larson is perfect in the title role, exploring a different, younger, more grounded aspect of the Super-Heroine I've learnt to respect and treasure with Gal Gadot's «Wonder Woman»*.
Also Samuel L. Jackson seems to enjoy his much bigger part and, as a bonus, two intact eyes and it works like a charm. (Even Jude Law gives me hope in proving that not everything is lost with a receding hairline not unlike my own).
And yes, there's a cat, and Ben Mendelsohn, and that's ok, but I've honestly seen better work of both of them😺.
Almost everything else in this movie seems to be falling in place quite nicely: The VFX are bombast-top-notch, of course. And music, sound and story are as solid as we've come to expect from Kevin Feige and his team.
But nonetheless, the result seems somewhat unfocused in the beginning and then, once the story gains momentum, still remains oddly flat, without much sense of drama or impact – muted, almost compressed in scope – if you will – unsuiting for a movie about one of the most powerful characters in the MCU.
I didn't want to go here in this text, but I must admit, while I don't condone the badmouthing on social media and rotten tomatoes even before «Captain Marvel» was released, it's hard to ignore that in some scenes the movie really seems to halt and announce: «See what we've done there? Yeah girl! You go girl, YOU're our target audience! Women can be strong, too!»
That's not too bad per se, Marvel and others have done a similar thing for years, calling it «fan service», but I can't shake the impression that this time around a more focused, better movie might have gotten lost in the process. What makes this worse is the fact that it wouldn't even have been necessary: With Brie Larson as the perfect strong, female lead, no additional distracting shenanigans would have been needed, no matter what song is playing in the background…
…you'll know what I mean when you watch the movie, which you should, 'cause while «Captain Marvel» remains on the weaker side of MCU-Movies, it's still very entertaining and Brie Larson, especially sporting the iconic suit, is worth the admission price alone.
---
| | |
| --- | --- |
| Storytelling | |
| Characters | |
| Acting | |
| Drama, Baby! | |
| Fun | |
| Humour | |
| Visuals | |
| Music and Sound | |
| Originality | |
| Entertainment value | |
| Production value | |
| Satisfaction | |
ASIDE: I can't help to think of the hilariousity we all got robbed of when DC decided to release their movie as «Shazam!» and NOT «Captain Marvel» (not that this ever was a possibility, but still). I guess the outcome would have been even more disastrous and entertaining than «Batman v Superman»'s multiple million dollar CGI moustache removal they had to do on Henry Cavill who wasn't allowed to shave for reshoots because he had to wrap «Mission: Impossible – Fallout»!
---
*) As much as I love Black Widow or Jessica Jones, they're in a different, minor league, compared to «Captain Marvel» or «Wonder Woman».